HVAC: is abbreviation of Heating, Ventilating, Air-Conditioning,mean the unit mounted under the instrument panel with heating, ventilating, and air conditioning functions.
Including air intake unit, air blast unit, air purification unit, heating unit, refrigeration unit, distribution unit, and blower assembly, heater core, evaporator core, mixed damper, model damper, compressor.
Today our main topic is to learn something about air-conditioner compressor of HVAC. Much like a heart in a human body, the compressor circulates the system's lifeblood, in this case the refrigerant, that is vital to the proper operation of the air conditioning (A/C) system.
The biggest three air-conditioner compressor suppliers all over the world are
Denso, Sanden, Hanon
Compressor is the core component of automobile air conditioner, which has a very high global market concentration and occupies 84% of the top five markets.South Korean companies have long pursued a strategy of large-scale investment and manufacturing economies of scale, and HANON expects its market share to reach 18% by 2020.Currently, HANON has a capacity of 13 million compressors, including 3.2 million compressors in Europe, 6.3 million compressors in South Korea and 3.5 million compressors in China.In the future,they will expand production capacity in China market, which is expected to reach 5 million units by 2020.
Automotive air conditioning compressors are divided into three categories, one is the mechanical belt driven by the engine, the other is the hybrid belt and motor driven type, and the other is the electric compressor of pure electric vehicles.
The top three brands account for 84 percent of the market,they are companies from Japan and South Korean. With the rise of new energy vehicles, electronic air conditioning compressor is the future trend.
End users of different compressor manufacturers
| | |
| --- | --- |
| 1.Scroll compressor | |
| | |
| --- | --- |
| 2.Wobble plate type compressor | |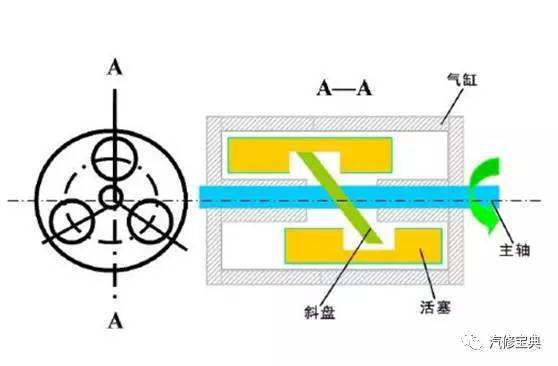 | | |
| --- | --- |
| 3.Swash plate type compressor | |
Bearing in the compressor
Request of compressor bearing:
1.Noise level request: at least Z2 class If bearing noise level is not good, compressor will have big noise during working, 2.Friction torque: low torque is request for double row sealed ball bearings used in compressor. High torque will increase high temperature inside bearing during working, thus bring bearing failure in advance.
First Automotive Air Conditioning System. Photo Courtesy ASHRAE
The newspaper article below shows a similar system being tested in New York City in 1933. If you want to know more about the development of automotive air-conditioner in history, please click here to read the detailed story.